German Shorthair Pointers
Reba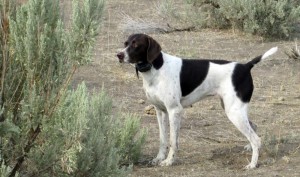 Reba is a bird finding machine.  I have never trained a dog that figured out how and where to hunt birds so quickly.  She has the stamina to hunt day after day and never loses her drive.
She is always out front, very stylish on birds, and has been a natural retreiver since the start.  With only 1 point needed to obtain her Field Championship and qualifying for the nationals at 3, she is a force to be reconned with.
Annie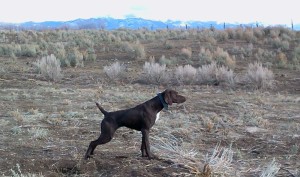 Annie is truly a magnificent dog.  She is absolutely determined to find birds and goes about her hunt like no dog I have ever seen.  She has amazing ground speed, is super athletic, and with her style,  seldom goes unnoticed in the field.  She is a direct daughter of FC Hauchuca Rocky and we are excited to see what she will accomplish.
Retrievers
Ben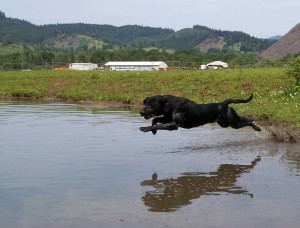 Ben has been my personal gundog since his birth and for the past 9 years has retrieved too many birds to count.  He also enjoys being one of my primary guide dogs.
He is incredibly athletic and powerful.  At 65 pounds he retrieves with authority.
He is equally skilled in the water as he is on land.  Whether chasing ducks and geese in frozen water or tracking down chukar in the bluffs and pheasants in the cattails, Ben will hold his own any day.
Purdy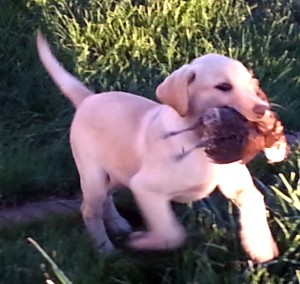 Purdy is showing all of the qualities I expect to see in a well bred retriever.  She is very intelligent, extremely athletic, and has great drive.
Since she was 7 weeks old she has been a natural retriever and at 12 weeks began retrieving birds on land and water.
We have been hunting her this season and she gets better every time she goes out.
Purdy will begin running hunt tests this spring and we are excited to see her work.
Pudelpointers
Captain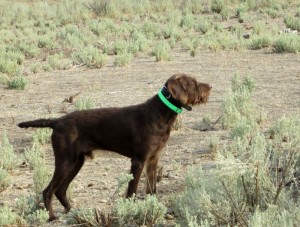 Captain is a very intelligent, athletic and extremely stylish male.  His ability to learn new commands so easily makes him a pleasure to train.  He excels at tracking and working wild birds.
Being a half brother to Lon it is no wonder he has a love for water and retrieving waterfowl.
Captain will make a great contribution to our kennel and we plan on breeding him in 2015 to some of our Tall Timber females.  Captain is currently in training for Utility testing in 2015.
Sage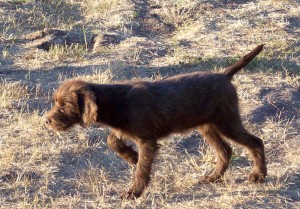 Sage has been one of my personal gundogs the past couple of years as well as one of the most dominant dogs in my guide string.  Her ability to search out and find birds is amazing.
She is extremely intelligent, loves to work, and retrieves naturally.  Sage has already produced a couple of very nice litters and is passing her great instincts along to her puppies.  Sage in currently in our NAVHDA training program and will be running Utility in 2015.
Lilly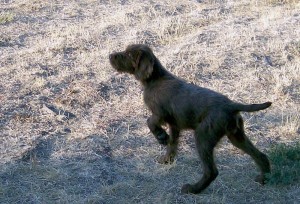 Lilly is one of the pups we kept out of the first Lon x Sage pairing.  Lilly began pointing, quartering and tracking at a very young age.  She is a very stylish dog on point with a very nice tail set.  She has been impressing me from the start and continues to do so.
Lilly will be running her Natural Ability test in 2015 and if she continues to show the qualities we require in our females she will be used in our brood string.