Cabin Creek Gundogs, located in Lakeview, Oregon is owned and operated by Jess and Tifanee Spradley.
With over 20 years of dog training experience, Jess and Tifanee understand what it takes to produce a great hunting companion.  It has been a life-long dream for the two to be able to open their own training facility, which they accomplished in 2012.  Since then, they have built an immaculate kennel/boarding facility and in 2014 purchased Cabin Creek Gundogs from Steve Waller.  Jess also serves as professional trainer for Steve's Tall Timber Pudelpointer kennel.
"It has been such a good fit.  I have always been impressed of what Steve has done over the years building up Cabin Creek and Tall Timber.  I truly feel fortunate to be part of the Tall Timber Team.  Along with Tim Rummel, friend, trainer and hunting guide we feel confident that we are breeding and raising some of the best Pudelpointers that have set foot on American soil."
Cabin Creek is responsible for training all of the team's dogs as well as breeding german shorthaired pointers and Labrador retrievers.  It is this relationship that allows us the flexibility to better serve our clients and to produce the quality of dogs we would be proud to hunt over ourselves.  This is what sets us apart and this is what you can expect when you do business with Cabin Creek and the Tall Timber Team.
Jess Spradley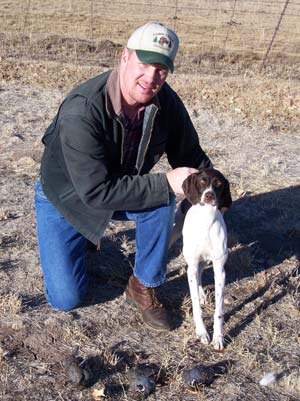 Jess has been training and hunting over dogs for the past 20 years.  He has always been impressed with the hunting breeds and their desire to seek out game.  More impressive to him is the relationship that develops between a trainer and his hunting companion.  To see the willingness to please in a dog's eye and the sheer enjoyment they have when they begin to understand what it is being asked of them is truly indescribable.
"I have been blessed in my life with the opportunities to train with some truly great trainers.  I enjoy passing what I have learned along to both dogs and owners.  Being a great trainer is certainly a goal of mine and it is that goal that keeps me going day in and day out.  No two dogs are trained the same.  I am always changing how I do things and how I present certain tasks to each dog.  I feel this is what makes a great trainer.  You need to be able to be flexible, patient and understanding during the entire training process.  By doing this I am able to train dogs quicker and they maintain a positive attitude which is essential to the training process."
Tifanee Spradley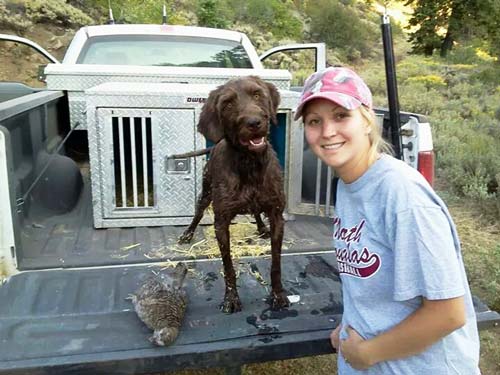 Tifanee is a huge part of Cabin Creek Gundogs.  Growing up on the family ranch she learned at a young age how to deal with all sorts of animals.  It is this understanding that allows her to contribute so much to our training program.
Tifanee is responsible for socializing all of our puppies as well as basic obedience and other tasks as needed.  She is quick to encourage and slow to discipline our young prospects which makes training them later on much more enjoyable.  Our young dogs needs need to understand that learning is fun and that the more they learn from us the more fun they will have.  It is this quality that makes Tifanee such an invaluable part of the Cabin Creek team.